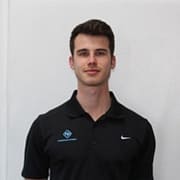 Perform365 Coach
Health, Exercise & Physical Activity.
Soft Tissue & Corrective Exercise Specialist (sports massage).
Calisthenics and Mobility specialist.
Experienced strength and conditioning trainer.
Medically referred qualified.
Do you want to master your own bodyweight?
Do you want to be the strongest you've ever been?
Do you want to be more flexible?
Health & Fitness is my passion, spending each day pushing my body & mind to the limit in pursuit of becoming my best version of myself. Having a degree in health & exercise, I am fully equipped with the tools to progressively and consistently move you forwards and smash your fitness goals!
Being a sports massage therapist, I have an in-depth knowledge of human anatomy & joint function, always striving for optimal mobility & posture so you can train year after year pain free!
Whether you want to burn fat, build muscle & strength or improve your mobility & posture – with your hard work and dedication, we can make this a reality!