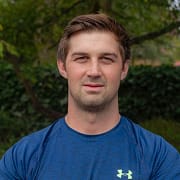 Perform365 Coach
Strength and Conditioning coach/Personal Trainer
Since graduating from St Mary's University Twickenham with a degree in strength and conditioning science in 2010 I started working within the St. Mary's University gym.
During this time I have trained a number of different individuals ranging from age group Great Britain athletes in sailing and hockey to CEO's and managers of businesses. I furthered my knowledge with working part time with a Neurological clinic, applying rehabilitation programs for spinal and stroke patients.
From a professional sporting background in rugby union I have also been interested in the performance side but also injury rehabilitation.
I am currently studying for a masters in sports rehabilitation at St Mary's University and working with private clinics implementing rehabilitation programs for their patients.
I can train clients at Richmond Rugby club gym (private gym), St Mary's University gym, Kew arch studio